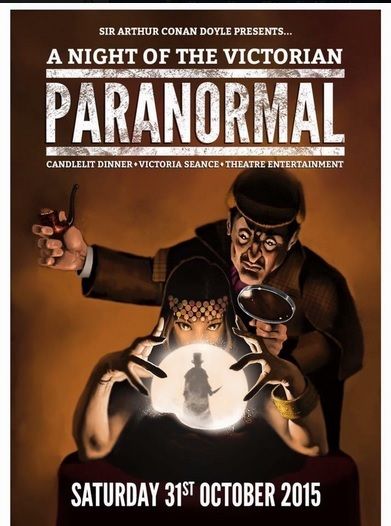 SHERLOCK HOLMES AND RIPPER ENTHUSIASTS
STILL UNDECIDED FOR HALLOWEEN ? WHY NOT JOIN US ?
A NIGHT OF THE VICTORIAN PARANORMAL : 31st OCTOBER 2015
An excellent halloween night of victorian entertainment, guided tours and 3 course banquet meal.
TOUR & VICTORIAN DINNER ENTERTAINMENT
Join Sherlock Holmes and Dr John Watson on the trail of Jack the Ripper as they enter the world of the paranormal in this unforgettable night of entertainment.
Standard tickets start at £55 per person however we have a VIP ticket for £75 per person which includes priority seating and a free bottle of wine/sparkling wine (per couple).
JACK THE RIPPER HALLOWEEN SPECIAL EVENT
This event will be held on 31st October 2015 (Saturday).
An unforgettable night of Victorian Theatre and horror. A ghost walk hosted by Sherlock Holmes & Dr John Watson, which includes:
A three course, candlelit dinner at the famous Mumbai Square restaurant
A turn of the century sťance hosted by the one and only Arthur Conan Doyle
A genuine medium, specialising in local history and gruesome crime
Other Victorian-themed entertainment and a few surprises to send you home afraid of the dark
WHERE WILL THE PRE DINNER TOUR TAKE PLACE ?
The tour will depart from a secret location known only to those booked on the night .
WHERE WILL THE DINNER EVENT TAKE PLACE?
The event will be held in Mumbai Square Indian Restaurant, 7 Middlesex Street, London, E1 7AA
HOW CAN I BOOK ON ?
Tickets can be purchased at :
Www.secretchamberevents.com